Article on ceramic abrasives for the Institute of Professional Goldsmiths
Posted on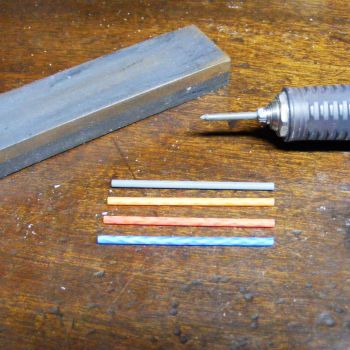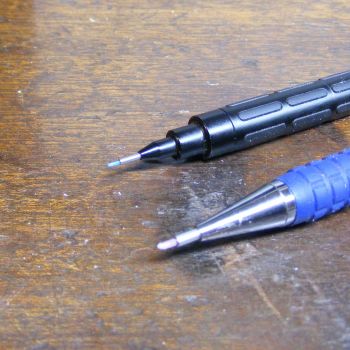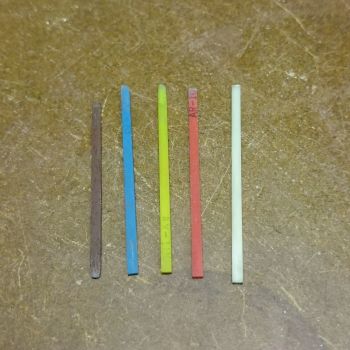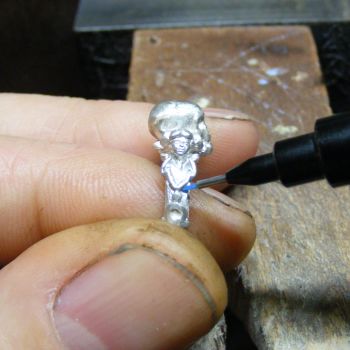 Ceramic Abrasives
Russell Lownsbrough FIPG
As a waxcarver who loves to carve intricate pieces of jewellery, I have always found it a chore to clean up tiny, difficult to reach details on my castings. Tiny bits of emery stuck on toothpicks, fibreglass brushes, and endless other things, tried them all but nothing really made my life massively easier. Rubberised abrasives, as blocks or burrs helped, and rubberised abrasive radial discs or 'spider wheels' as some people like to call them were a significant improvement. However, in my opinion the ultimate tools for this very job are ceramic abrasives. I discovered them about 3 years ago at IJL and have been gradually converting others to the faith ever since. They are ceramic mixed with fibreglass, the abrasive is aluminium oxide.
They are available in 3 forms, a cylindrical rod, a rectangular stick (various widths) or small square rods that fit into a mechanical pencil. The rods are the correct diameter for use in a pendant or micromotor. The pens come in 0.5mm and 0.9mm. The material is hard wearing and tougher than it looks. They can be shaped according to need with an oilstone, I wouldn't recommend anything else, certainly not a file. I use them without any lubricant, although I suppose you could, I've not noticed a significant difference.
They come in the following grits in different colours for easy identification:-
120 - violet 1200 - red
220 – brown/grey 1500 - yellow
400 – orange 2000 - cream
800 – blue 3000 – pink
Setter Niall Paisley FIPG has been using the red and blue for about a year. "I have the 0.9mm rods and find them useful on a rubover edge I would normally find hard to get a file on to because of another rubover near by. When you have settings joined together but at different heights they are great too. You do have to be careful though as they will mark stones. Diamond is the only one I'd say is truly safe.
I found that after a while the clutch pencil that you get with them doesn't hold well and the rod slips back inside. So I got a couple of pin vices and put them in those. I can adjust the length as I want, however don't screw it up too tight as you might shatter the rod. I have found they hold even a very small piece while the pencil can't, so you get less waste."
Personally I use brown, orange, blue and occasionally red for the rods, and red and blue for the pens. There's some availability at Cooksons and HS Walsh; the full range is available from SSP STEIDLE (Germany) and also Moleroda, who can be found online.
I've found they a long time, although if I was doing a lot of production work I'd probably get through them faster, but the time saved would pay for itself.
Give them a go, you can thank me later.